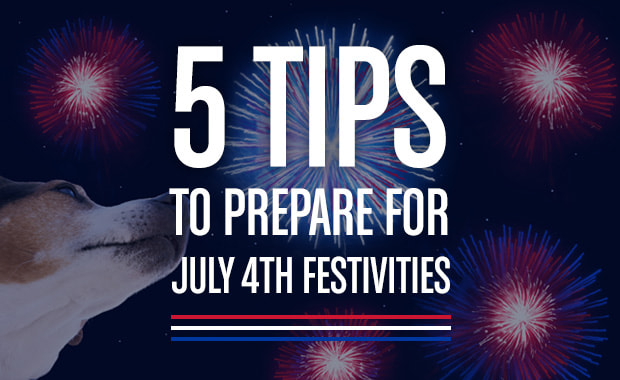 Dogs And Fireworks: How To Calm Your Dog During Fireworks
Fourth of July weekend can be scary, hectic, and a sensory overload for your dog(s). While exciting for us humans, this is a holiday that from a dog's perspective, is pure chaos. Not only is your dog unfamiliar with the intense excitement of this holiday, but to their extremely sensitive eyes, ears, and noses, they are simply unprepared.
TL;DR - In This Article:
Keep reading to get our expert-recommended top 5 tips on how to help your dog stay safe and calm during fireworks.
5 Tips To Prepare Your Anxious Dog For Fireworks
1.Exercise Your Dog Early And Often Leading Up To Fireworks:
An obvious way to ensure your dog is more relaxed and calm in the evening is to tire them out during the day. Plan to take a longer walk, or multiple walks leading up to an evening of fireworks. Try to take a more uphill path if possible, which will be great for both you and your dog!
If you're looking for time-saving hacks, we've got you covered with the MiniPacer Treadmill, a compact and easily portable dog treadmill that your dog can use while you're busy setting up for your Fourth of July party. You can even take it with you and run your dog when you find the perfect spot to watch your local fireworks event.
Another great way to exercise your dog is to play with them! Giving your dog an extra 30 minutes of playtime will help them expend any extra energy, which will help them to relax, especially when the booming fireworks start going off. Be sure to get those dog agility tunnels out for fun, stimulating, and exciting entertainment!
2. Update Your Dog's ID Tags, Collar, and Leash:
Loud and sudden noises can trigger your dog to run. Especially over a prolonged period of time… like during fireworks. Be certain that your dog is wearing their collar and that their ID tags are up-to-date and easily visible. It doesn't matter if you're staying home or if you leave the house to go watch a local fireworks display; no matter what you do, your dog needs their ID on them, just in case.
Don't forget to bring your dog's leash either. You'll want to bring at least one leash, but you may want to bring a few different options of dog leashes, leads, or even a long line depending on the situation.
If you're going to see fireworks locally at a park, a long line for your dog is a great option! If you arrive early to pick a good viewing spot, you can take your dog on a walk around the area to help familiarize them with their new surroundings. This can help to alleviate some of the stress and anxiety of being in an unfamiliar place, especially when there's going to be a large crowd of unknown people in close proximity sharing this space too.
At the very least, you'll want a dependable and sturdy leash to keep close at hand. Even a well-trained dog that's used to being off-leash may run unexpectedly when the scary booming of fireworks starts going off. The last thing you want is to chase a scared dog during a long fireworks event.
3. Give Your Dog A Safe Space:
Whether you are planning to head out or host, you should create a familiar and comfortable environment for your dog. If you are taking your dog along with you to a Fourth of July party and/or to watch fireworks, there are a few things you should consider to help create a safe space for your dog.
Providing them with ample room to move around while having a shelter available is absolutely necessary. Bring items to fill your dog's safe space such as their bedding, their kennel, blankets, toys, food, water, etc. An easy way to bring your dog's favorite food along with you is with the Kibble Kaddie, a dry dog food storage travel bag that's durable, convenient, and even waterproof!
Just remember, there is nothing more calming than the company of someone they love; so check in as often as possible.
4. Be Aware Of Potential Health Dangers Or Hazards:
As much as it may be unwanted, people are not always aware of proper etiquette around your dog. Alcohol, fireworks, sparklers, toxic foods, and even certain houseplants can put your dog at risk.
The best thing that you can do is to remind yourself and others that your dog is already in an unfamiliar and stressful environment. Ask others to be thoughtful and treat your dog with extra-kindness.
Consider anti-anxiety medication for your dog as an additional precaution. Supplements such as Naturich's K9 Finest Daily Supplement are an excellent, safe way to help your dog to manage their anxiety and potential post-traumatic stress following intense festivities.
*Important* Be sure to consult with your veterinarian if you intend to give your dog any over-the-counter or prescription medication.
5. Pay Extra Attention To Your Dog During Fireworks:
Consider getting your pup something new (like our Ball Trainer or Treat Dispenser), which will help take their focus away from the craziness.
Another way to distract them from the unfamiliar is to provide some sort of background noise, like a TV program or music. Many dogs, like their human counterparts, have their favorite shows. Let them indulge.
If you remember just one thing, remember this: a long dog walk before fireworks and festivities will help tire your dog out, relax more, and take the edge off.
Why Your Dog Is Afraid Of Fireworks
Since we can't tell our four-legged buddies ahead of time what to expect when the fireworks start exploding, this comes as a complete surprise to your dog, causing both fear and intense anxiety.
Try to think of it from your dog's perspective, including their super-senses of sound, scent, and sight. The booming of fireworks is loud for us, but imagine if you had your dog's hearing sensitivity.
If we humans can hear fireworks echoing from miles away, what is your dog hearing? A great way to protect your dog's ears is with the RexSpecs Ear Pro dog ear protection unit from our partner Ray Allen Manufacturing.
Most dogs aren't used to the smell of gunpowder, but to your dog's scent abilities, the acrid smoke of thousands of fireworks is more than overwhelming.
Sometimes we can see firework displays from neighboring towns, cities, and even other counties, and you'd better believe your dog can too.
To your dog, the bangs, booms, and large groups of people during this noisy holiday are simply too many intense stimuli. Unfortunately for our furry friends, our fun, excitement, and enjoyment during the Fourth of July weekend celebrations also give many dogs intense anxiety.
Simply put, it's not the norm for your dog. And, while your dog may be friendly and obedient, it's still best to consider your dog's mental health and well-being when preparing for an event that he/she is not accustomed to.
Prevent Your Dog From Being Scared Of Fireworks
When making plans for this Fourth of July weekend (or any celebration including fireworks), put some extra thought into the preparation and inclusion of your dog, too.
Make sure to give your dog plenty of exercise, attention, and activity early in the day, and be sure they have ample food and water. Check on your buddies often if they aren't with you during the Fourth of July festivities, and spend some time playing with them to help normalize their new surroundings (as much as possible). All in all, the best thing to do is to keep them nearby and keep them entertained.
With these top 5 tips to help keep your dog calm during fireworks in mind, you can ensure a smooth and successful holiday weekend for you and your furry friends. Be safe, and enjoy.
From our J&J Dog Supplies family to yours, enjoy your Independence Day!