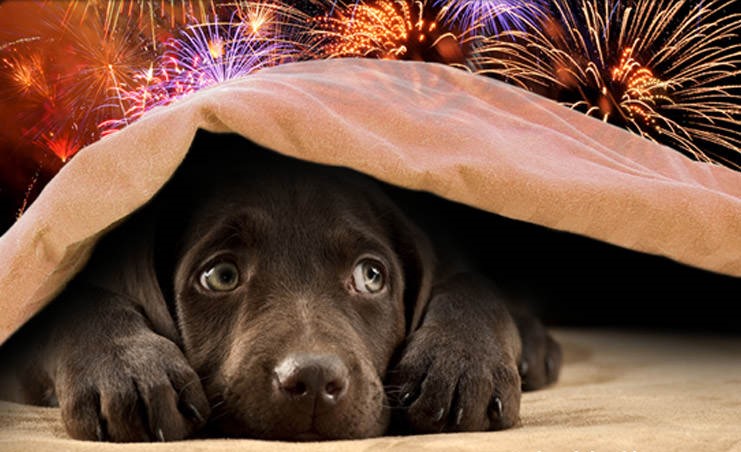 Fourth of July weekend can be scary, hectic, and unfamiliar to your dog(s). From loud and sudden noises, to the abundance of new people, a territorial environment, and the wide array of food and drinks. Simply put, it's not the norm for your dog. And, although your dog may be friendly and obedient, it's still best to consider your dog's mental health and well being when preparing for an event that he/she is not accustomed to.
5 Tips To Prepare Your Anxious Dog For Fireworks
Early Physical Exercise:
An obvious way to ensure your dog is relaxed and calm in the evening is to tire them out during the day. Go a bit further on the walk, take a more uphill path, or play an extra 30 minutes. Get those agility tunnels out!
Leash, Collar, ID Tags:
Loud and sudden noises may trigger your dog to run. It's best to keep their ID tag on them and if/when you leave the house, keep them within reach; using any number of leashes, leads, or long lines.
Safe Space:
Whether you are planning to head out or host, consider creating a familiar and comfortable environment for your dog. Provide them with ample room; filled with their bedding, a kennel, blankets, toys, food, water, etc. And remember, there is nothing more calming than the company of someone they love; so check in as often as possible.
Health Dangers:
As much as it may be unwanted, people are not always aware of proper etiquette around your dog. Alcohol, fireworks/sparklers, toxic foods, and even certain houseplants can put your dog at risk. It's best to remind yourself, and others, of these dangers - to ultimately protect your loved one.
Attention:
Consider getting your pup something new (like our Ball Trainer or Treat Dispenser), which will help take their focus away from the craziness. Another way to distract them from the unfamiliar - provide background noise, like a TV program or music. Many dogs, like their human counterparts, have their favorite shows. Let them indulge.
Lastly a long dog walk before the festivities can tire and take the edge off the dog.
In conclusion, when making plans this Fourth of July weekend, put some thought into the preparation and inclusion of your dog, too. Make sure they get plenty of activity early in the day, they have ample food and water, check on them often, normalize their surroundings (as much as possible), and keep them entertained.

With these tips in mind, you can ensure a smooth and successful holiday weekend for you and your furry friends. Be safe, and enjoy.

From our J&J Dog Supplies family to yours, enjoy your Independence Day!