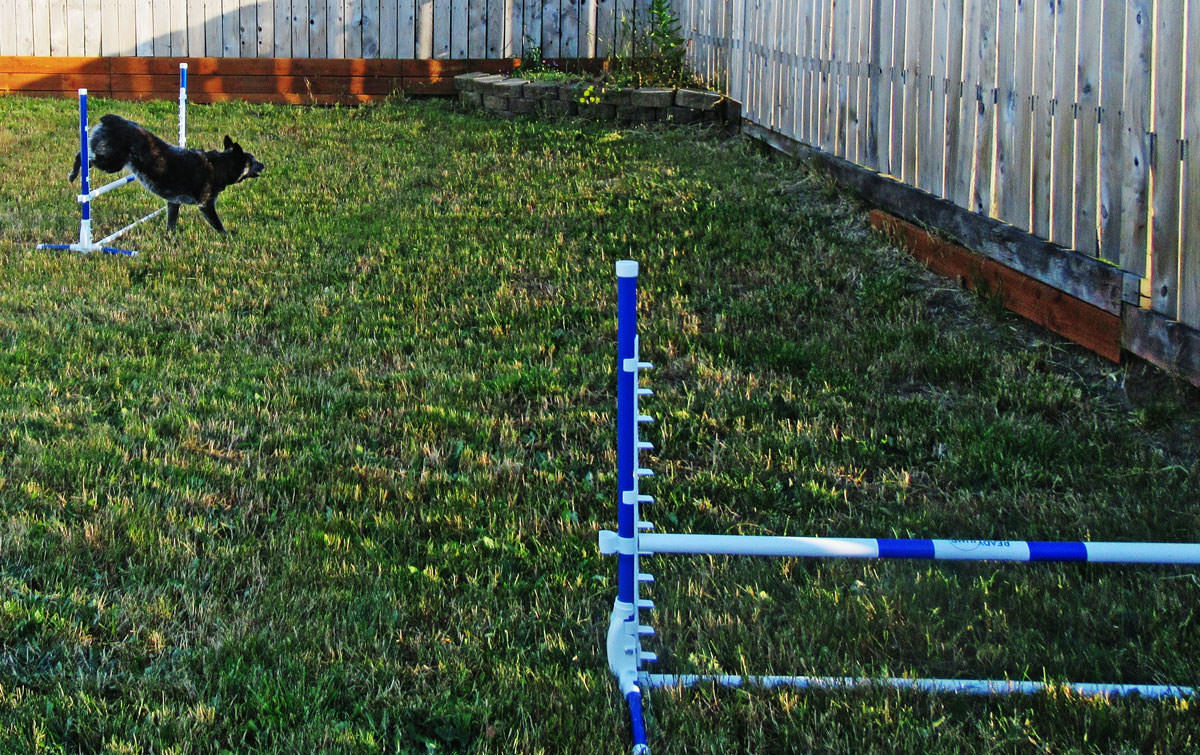 Justine Sahli & Ruthie
Trainer & Handler // Competition & Therapy Dog
"As a dog trainer with physical challenges, I really wanted and needed a smart dog, but I wasn't prepared for a Champion Trick Dog! J&J helped make that happen! Ruthie, AKC name: Justine's Jillaroo Born Again THD CGC TKP, is an Australian Cattle Dog. After my prior dog, a Husky/Cattle Dog mix, passed at age 18 years, my doctor kept after me to get another dog, but I was heartbroken and resisted.
Soon afterward, I picked up a newspaper and there was an ad for ACD puppies. The location was an hour and a half away, so I used that as an excuse and tossed the paper. Then, the local ad circular arrived – with the same ad for ACD puppies. I threw it away. This went on for a week. Finally, I called and made an appointment to at least look at the puppies. But I wasn't going to get one!
Arriving at the horse ranch, the owners introduced me to 13 adorable puppies from two litters. The family was very understanding of my reticence and took me out to lunch. After 8 hours of procrastinating, and interacting with the puppies, the owners and I bowed our heads and prayed. I was fully prepared to leave without a puppy, but when we all looked up, it was unanimous!
Ruthie-puppie screamed all the long drive home and I thought I'd made a terrible mistake. But, after she devoured a nice meal and had a nap, she started racing around the home, grabbing my slippers and anything else her sharp puppy teeth could latch on to! Instead of chasing her, I reinforced her retrievals by calling her to me and trading the slipper for a treat. And, so began a beautiful friendship that is still going strong, 11 years later.
We worked and played together while training her to meet my needs. At 13 months, Ruthie passed her Canine Good Citizenship test with flying colors. As Ruthie developed a repertoire of tricks and behaviors, I realized I wanted to share Ruthie with others. She soon passed her therapy dog test, with Love on a Leash, as well as several Trick Dog tests with Kyra Sundance. Before I knew it, we were at the highest level in 2014, and Ruthie became just the second ACD to earn the Trick Dog Championship title.
We joined a Convalescent Ministry and began weekly visits to perform, as Ruthie showed an unusual gift of connecting with the staff and residents. But I knew this wasn't challenging enough for such a high energy working breed, so we ventured into the field of Dog Agility.
J&J has a great selection of Weave Poles, Jumps and Tunnels, including the Ready Jump, which is so easy to set up, well-made and lightweight to carry.
I was self-conscious of my limitations on the agility courses, but I had taught Ruthie to work at a distance away from me. We started qualifying and winning! After putting two USDAA titles on Ruthie, we moved to more land in Northern California, where we found a new Care Home to visit and Ruthie had plenty of land on which to run and jump!
Then, disaster struck. A wildfire roared through our town in Northern California, destroying more than 19,000 homes, including ours. As we fled the flames, all Ruthie's equipment was left behind. She was a huge comfort to me as I grieved the loss of another pet, and of nearly all of our belongings. We moved through four different homes as I negotiated with agencies, in search of help and support as relief for the fire. I used some of the clothing insurance money to buy Ruthie three more J&J Ready Jumps and some more weave poles. Not having any furniture, visitors that came by joked about my living-room being an agility course for Ruthie! I wanted to give Ruthie – and me – a sense of 'normalcy' as we moved into our new life. J&J thankfully helped us do that together.
Now, two years later, Ruthie has started to slow down and is not allowed to jump so high. Fortunately, the Ready Jumps are easy to adjust as she ages, and the weave poles are lightweight and can be set up in various lengths. With Covid shutdowns limiting residential visits, we have still brought smiles to stores and medical staff in much need of some doggie relief, performing impromptu entertainment and offering comfort. And my living-room still looks like an Agility Course!"
Their Gear:"A big "Thank You" to J&J for helping us make this difficult transition with portable and quality equipment. Lastly, now that we have a yard again, I hope to save up to replace Ruthie's favorite piece of equipment – a J&J Agility Tunnel!"
Submit your Featured Paws here for a chance to win next week!
Find our previous Featured Paws here.