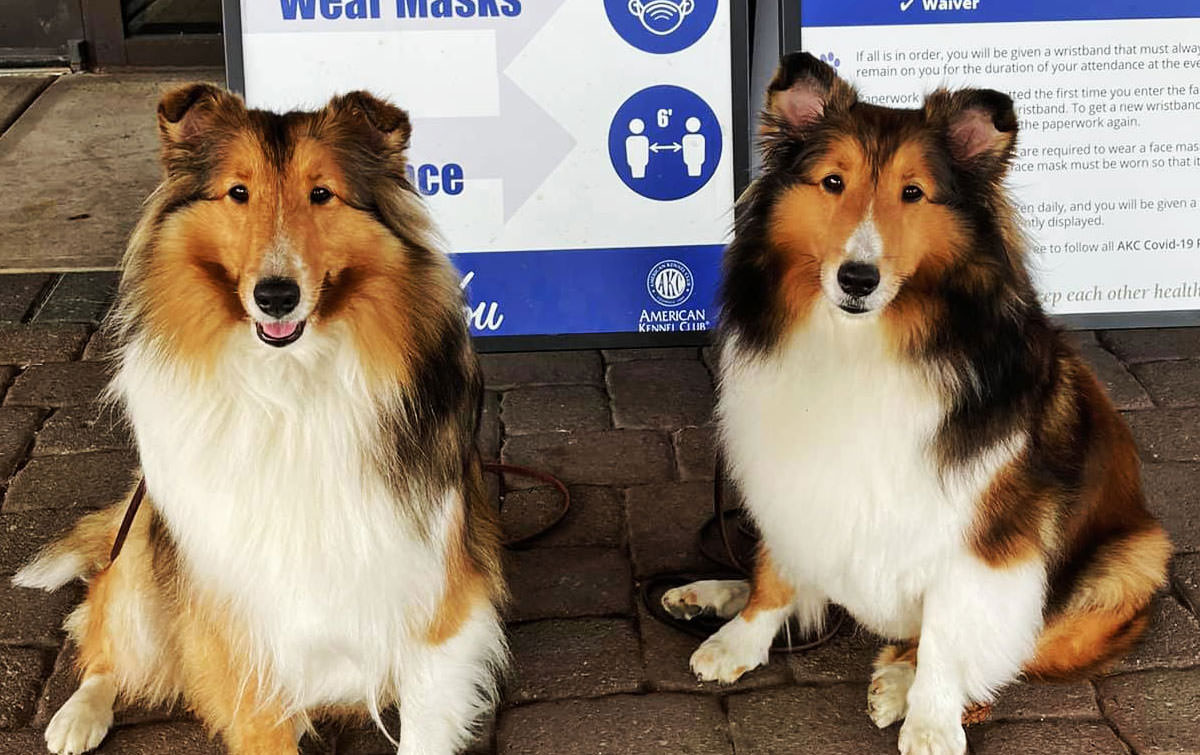 Trina Copeland with Aurora & Alena
4-H Dog Project Leader // Competition & Therapy Dogs

"I have been a 4-H Dog Project leader for 22 years. My two children both showed in 4-H Dog Project all ten years that they participated, and both won many awards at the State Fair Dog Show. My son was very involved in FFA in High School and started a Dog Training business for his SAE project. When he left for college at Purdue University over nine years ago, he asked me to take over his canine classes to finish up the waiting list he had backlogged.

As any mother would, I picked up where he left off and started teaching canine classes. In doing so, I found there was a great need for obedience training in our community. I have always enjoyed seeing the partnership develop between the handlers and their dogs, so I continued teaching classes with obedience as a focus. I became an AKC Canine Good Citizen Evaluator to help my clients develop a goal to work towards with their dogs.

When my youngest daughter also left for Purdue University, she took her dog to college with her. Silly enough, at that time I was using her dog as the demonstration dog for my classes, and when she moved I found myself without a demo dog. ... So I decided to get a puppy for myself!

I carefully researched for a responsible breeder and found my perfect Shetland Sheepdog puppy, Aurora. I started showing Aurora in AKC Rally and Obedience. She is very intelligent and enjoys learning new things. It wasn't long before I realized she had a bigger purpose. After I read an article about how Therapy Dogs were helping young children develop their reading skills by reading to a dog, it seemed like something we had to try. With the blessings of our nearby elementary school, Aurora & I started down this path, going weekly to let the children read to her.

We had so much fun that I wanted to get more dogs involved in the program, so I became an Evaluator for the Bright & Beautiful Therapy Dogs. We now have a large group of Therapy Dogs in our community and have been going to our public library to have children practice their oral reading skills by reading to our dogs. Members of our group are also visiting hospitals, nursing homes, and Veterans meetings.

After completing health testing for Aurora, she was bred and had one puppy, Alena. I kept Alena and started competing with her in AKC Rally (like I had done with her mom, Aurora), and soon after, she too became a Therapy Dog.

Aurora is about 2/3 of the way towards becoming a Rally Champion. Alena is competing in the Rally Excellent class. They both qualified to attend the AKC Rally National Championship where we competed in July. They have both again qualified to compete at the 2022 National Championship and we hope we get to compete at that event as well.

I have met so many wonderful people through my 4-H and Adult Obedience Classes and also by competing at the shows. I am so blessed to be able to have these two wonderful Shetland Sheepdogs who love me wholeheartedly and can't wait to see what new adventures we will get to do together!"
Their Gear: "I love the J&J 6' leather leads. They are soft and strong. I order many of them all year long for my 4-H members and the clients who attend my obedience classes. Their leather leads do not hurt your hands if a dog pulls you as you begin your training together. I also use a 2 dog coupler with 3' leather leads so I can easily walk both dogs together. I enjoy the variety of durable toys and tugs you offer, keeping my dogs engaged with me throughout training."
Submit your Featured Paws here for a chance to win next week!
Find our previous Featured Paws here.