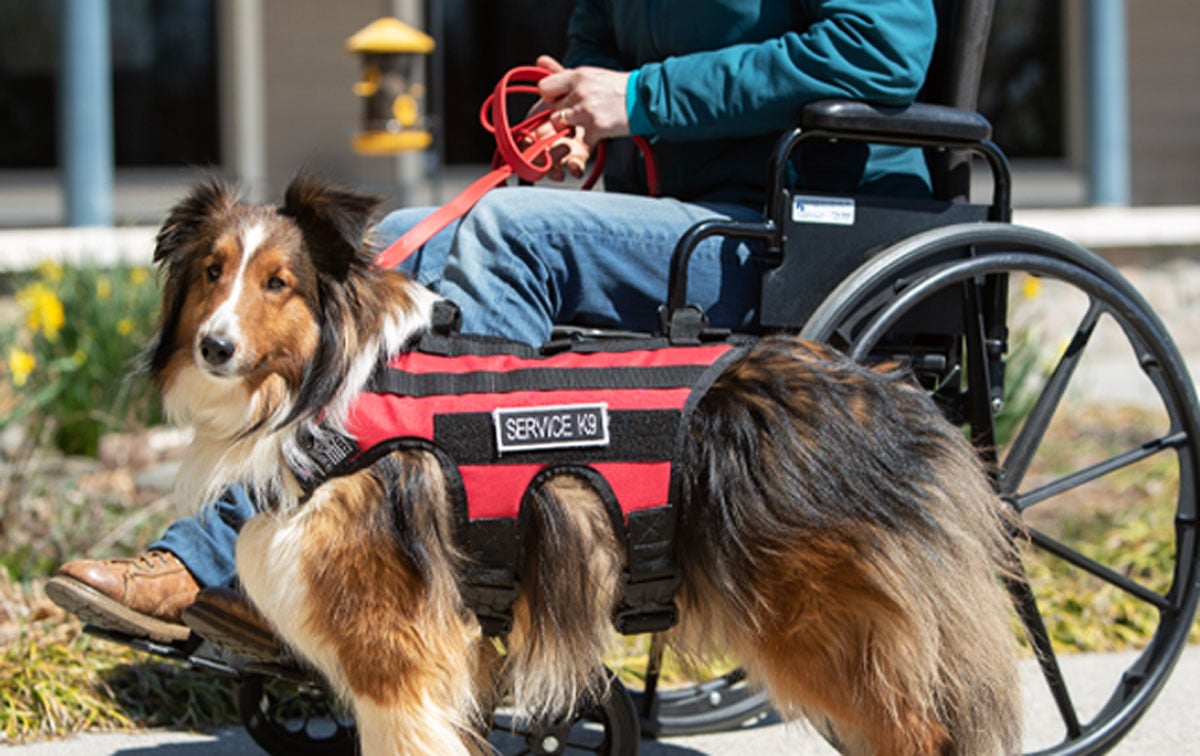 As defined by the Americans with Disabilities Act (ADA), service dogs are "dogs that are individually trained to do work or perform tasks for people with disabilities." The types of disabilities that service dogs can assist with range significantly and include conditions such as diabetes, autism, PTSD, seizure disorders, multiple sclerosis, cardiac-related conditions, and many more.
Because of the around-the-clock work that they perform, as well as the credentials they need to carry when on-the-go, service dogs require specialty gear and equipment. In this week's blog, we'll cover the supplies every service dog needs to do their job successfully.
The Importance of Having Proper Service Dog Gear
Standard leashes, collars, and other dog gear doesn't cut it when it comes to properly dressing a service dog. Why? To do what they are trained to do, service dogs require specialty harnesses, collars, and other gear to be effective and stay safe.
One example is having a harness that helps them pull their owner to safety to communicate an impending medical issue. Specialty harnesses also allow dogs to manage and balance their owner's larger weight in the midst of a medical emergency.
Additionally, service dogs must also be properly identified in public. Since standard harnesses and collars have no room for ID patches, this is another reason service dog-specific gear must be used.
Essential Supplies for Your Service Dog
If you are preparing to welcome a service dog into your home, what kind of gear should you purchase? Explore the top types of service dog gear that all owners should consider.
Service Dog Identification
Properly identifying your dog as a service dog while in public is extremely important and a requirement in many cases. As such, formal identification and identification holders are the most essential pieces of service dog supplies you can use.
To quickly and easily communicate to others that your dog is indeed a working service dog, velcro Embroidered Service Dog Patches do the trick. Patch messaging includes "Do Not Pet," "Service K9," "In Training," and "Service Dog."
Other effective ID items include Service Dog Collar Tags (which can be engraved with your dog's name, their medical specialty, and their human's contact phone number), Service Dog In Residence Cling and Decal, and a Velcro Top ID Pouch.
Service Dog Harness
Specialty harnesses are also a must-have for service dogs, especially outside of the home, for the reasons mentioned earlier. Top designs include the High Visibility 3 G-Hook Orange Side Panels (great for added safety and visibility), the Activ Dog Harness, and the Activ Dog Harness with Handle.
Leash and Collar
For a less bulky design when compared to harnesses, there are specialty leash and collar combos that are made specifically for service dogs. Appearing much like standard leashes and collars, this is a discreet option for those who prefer it.
The Convertible Service Dog Leash is a top design on the market, allowing for hands-free walking. Other exceptional products in this category include the Small Nylon ID Collar, as well as the Nylon Adjustable Service Dog Leash with Bolt Snap. Both collar and leash are lightweight, durable, and made for everyday use.
Additional Supplies
Aside from the products listed above, don't forget to add other basics that are necessary for every dog, such as a first aid kit, grooming products, and nutritional supplements based on your dog's unique needs
J&J Dog Supplies Has All of Your Service Dog Gear
There's no reason to waste your time or energy searching for all of the items mentioned above on other websites or in brick-and-mortar stores! At J&J Dog Supplies, we carry everything service dogs and their owners could ever need. Plus, our gear is made right here in America, so you know it's of the highest quality.