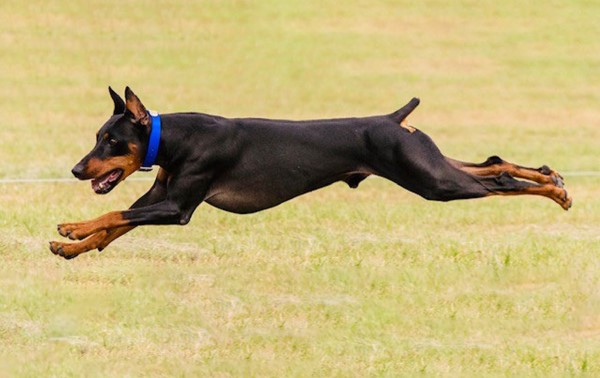 Jose Rodriguez & Eichler
Handler & Trainer // Competition Dog
"Daveren's Wolfgang Von Eichler CD RM RAE CAA DCAT SCN SIN SBN RATN CGCA TKN VHM VGPX, our boy Eichler, is a German Pinscher taking full advantage of all the great performance events now offered by national kennel clubs. He is my 'A' dog. The first dog I trained to compete in these events. They include traditional Obedience, Rally, Lure Coursing, Scent Work, Barn Hunt, Canine Good Citizen and Trick Dog.
Our journey started with positive reinforced training methods. Training the trainer and learning how to build the relationship I wanted with my dog was the first objective. Eichler's wiggly butt, enthusiasm, and smile kept me motivated. He was my positive reinforcement and that's how I knew we were on the right track. After the sits, downs, stays and heels, we took a Rally class and I made a small investment in a training kit that included rally signs, cones, stands, and jumps. That took us all the way from Rally Novice to Master titles and a national championship. The more time we spent training, the more we learned about each other. That knowledge earned us a Companion Dog title and gave us the confidence to try Scent Work, Barn Hunt, and just about anything that looked like fun. And, oh what fun we have! We travel to events, stay at hotels, ride elevators, eat at dog friendly restaurants, go to the beach, wear costumes in parades and visit friends and family with the confidence of a well-trained team. We're now even doing dock diving!
Training (playing) with Eichler opened up a whole new world for my family and me. It's fun exercise. It's a great way to spend the day outside. It's relaxing yet a challenge. It's why we wanted a dog in our lives. It's getting to know and love our dog, our Eichler, in a way that only time and effort allows."
Their Gear: "We love the quality and value of your collars, leashes, and rally equipment. Your training guides, rally signs, and hurdles took us from Rally Novice A all the way to Masters."
Submit your Featured Paws here for a chance to win next week!
Find our previous Featured Paws here.