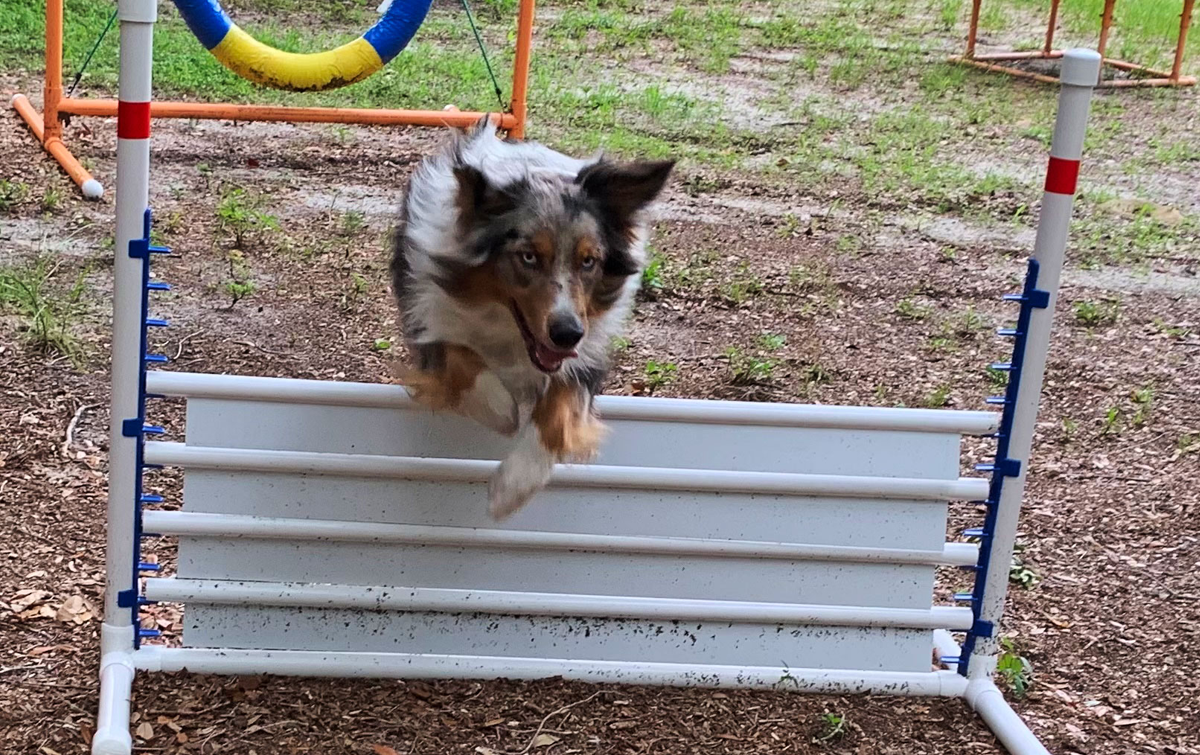 Linda Gould & Blue
Trainer & Handler // Competition Dog (Trick Dog, Rally/Obedience, & Agility)
"About 20 years ago I dabbled in Agility with another Aussie I had. We never technically competed, and then I moved and life got in the way. That dog has since passed, years ago.

I now have a 17 month old Aussie, named Blue. And, with his high energy I decided to get back into competition training. I had forgotten just how much I enjoy doing dog things. Blue and I have gone through the ranks of Companion Dog 1 and 2 at a great training facility, Havenlea Dog Training Centre in Ocala, Florida. He has received his Star Puppy, CGC and CGCA, FDC, ATT, and Trick Dog novice and intermediate and we are almost ready to test for advanced.

We are currently taking intermediate Agility, Rally, and Obedience. My husband has built me all the contact obstacles for Agility and I have a bunch of jumps we made using J&J jump strips. I have bought your panels which I use with one of the jumps we made and your broad jump. I also have J&J tunnel bags. We just finished our triple jump made to AKC standards using J&J jump strips and jump cups. Blue is a big dog and because of his age I don't have him jumping full height yet.

I've never had a problem ordering from J&J Dog Supplies. All my orders have been correct and they arrive amazingly fast. It's a pleasure to deal with your company."

Their Gear: "The tunnel holders that we purchased from J&J work really well. My agility tunnel doesn't move when my dog goes running through it. The jump strips and jump cups make it so easy to build your own DIY jumps. I'm thankful they sell these components separately. The panel jumps were easier to buy than build, and J&J made ordering simple. Same thing with the broad jump."
Submit your Featured Paws here for a chance to win next week!
Find our previous Featured Paws here.