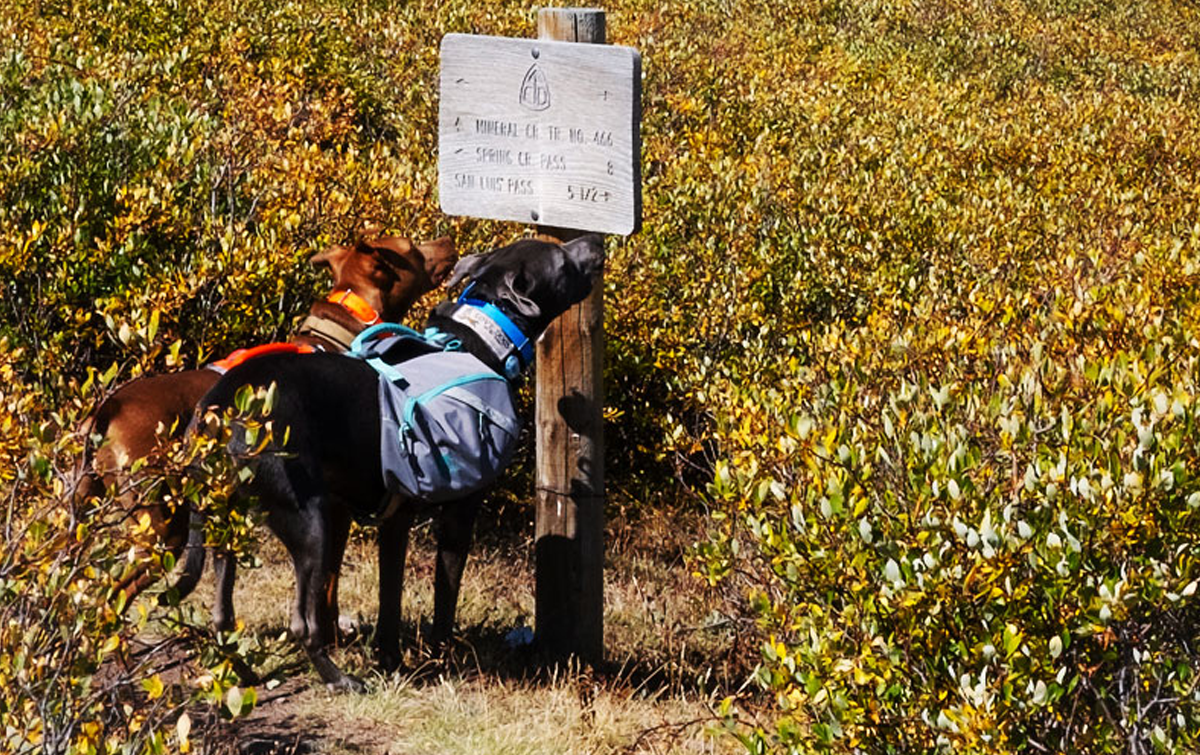 Tif Holmes w/ Japhy & Hazel
Handler & Trainer // Trail Dogs
"Dogs have been a huge part of my life since I was a kid. Specifically Pitbull-type dogs.

When I decided to get my first dog as an adult, I adopted a Boxer because I thought that was the closest thing to a Pitbull, and since I was in the Army and could potentially move around a lot, I wanted a dog I knew wouldn't be banned in any city I might end up in. Sadly, my Boxer only lived for 7 years before being diagnosed with osteosarcoma and passing away three months after the diagnosis.

Several years later, when I knew I was getting out of the Army, I adopted a Pitbull-Boxer mix, easing my way back into the world of Pitbulls. It didn't take long for me to remember why I love them so much, with their strong sense of loyalty and stubborn intelligence. At a year old, my girl was as stubborn as could be and full of wild energy. So, in 2016, I started backpacking The Colorado Trail in segments with her as a way to expend some of that energy while continuing to build trust and teamwork. I live in West Texas and was driving on weekends and holidays to backpack the trail, so it was taking awhile to complete.

In 2019, my girl developed Lymphoma and passed away within a month. It was devastating. As I drove home from the vet's office that last time I remember thinking I wouldn't get another dog. I thought about all of the thru-hikes I could do without a dog and all of the career-related projects I could take on and all of the traveling I could do without having to worry about who would take care of the dog while I was gone. It seemed like a good decision. No more dogs (I thought).

A month later when I went back to the midwest to visit family for Christmas, I visited an animal shelter 'just to look', and was introduced to a six-month old blue Pitbull-GSD mix. He was an intense boy with that same wild energy my Bullboxer had. While I didn't adopt him on that first visit, I knew I was going to. I returned for a second visit with his new name tag in hand. Amidst the pandemic (summer of 2020), he joined me on the journey across The Colorado Trail, and did great.

Fast-forward to earlier this year... As a self-employed photographer, I lost a lot of business as a result of the pandemic. With not as much work occupying my time, I started thinking about getting a second dog. It seemed like the perfect time to train a puppy. So I got on Craigslist and started casually looking.

It was there that I found Hazel, my Pitbull-mutt, at two months old being offered for $40. She was malnourished, had worms, and was terrified of everything, but I brought her home and introduced her to Japhy and everything just clicked. Japhy taught her how to be a dog and by his side she wasn't so afraid of everything.

This summer I picked up The Colorado Trail where I left off last year, only with two dogs instead of one. We finished the season with 129 miles left. I hope to finish the trail next season (2022), seven years, three dogs, and 486 miles after I started. What was initially an idea to get outside and enjoy time with my Bullboxer, Mani, has now manifested into an adventure with my dogs, to honor Mani, the dog I started it with."
Their Gear: "I use the Nylon Adjustable Service Dog Leash with Frog Clip and the Evolution Nylon Dog Collar with Handle on both dogs. I like the frog clip because I know I can count on it to stay fastened to my dogs' collars no matter what. I've had regular clips jam with snow and disconnect. I love that the leashes can be waist-worn and that they swivel to prevent tangling. I love the handle in the collars because when the dogs are hiking off-leash and I need to control them for just a brief moment, I can grab those handles and it's super easy. Overall, I love this gear because I know it will last, on the trail and off."
Submit your Featured Paws here for a chance to win next week!
Find our previous Featured Paws here.